The main interface window field description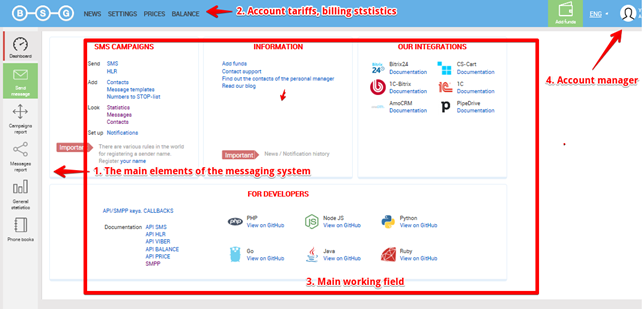 The main elements of the messaging system
The main elements of the messaging system: Settings, Messaging, Mailing list, Message Report, General Statistics, Message templates, Phone books, Stopping-list, Balance replenishment, Online chat, Help.
Account Tariffs, Billing Statistics
There are Statistics on the Account Fees, History of Payments and History of Balance Changes on the top.

Main working field
All the important information for you is displayed in the main working field:
system notifications

news

settings

prices

balance.
Account Management
While managing the account you can choose the language for the interface (Russian, English, Portuguese, Polish, German, French, Spanish).
Here you can see the balance of the account, as well as replenish the balance.
There is the account management section in this part (account settings, SMPP/API password generation, enabling a two-factor authentication, currency selection, tariff selection, changing system notification settings).