We recommend using the file import to add a contact list containing 300+ contacts or with extensive contact information. Transfer any data, and uploads from CRM and CMS systems by means of importing a file.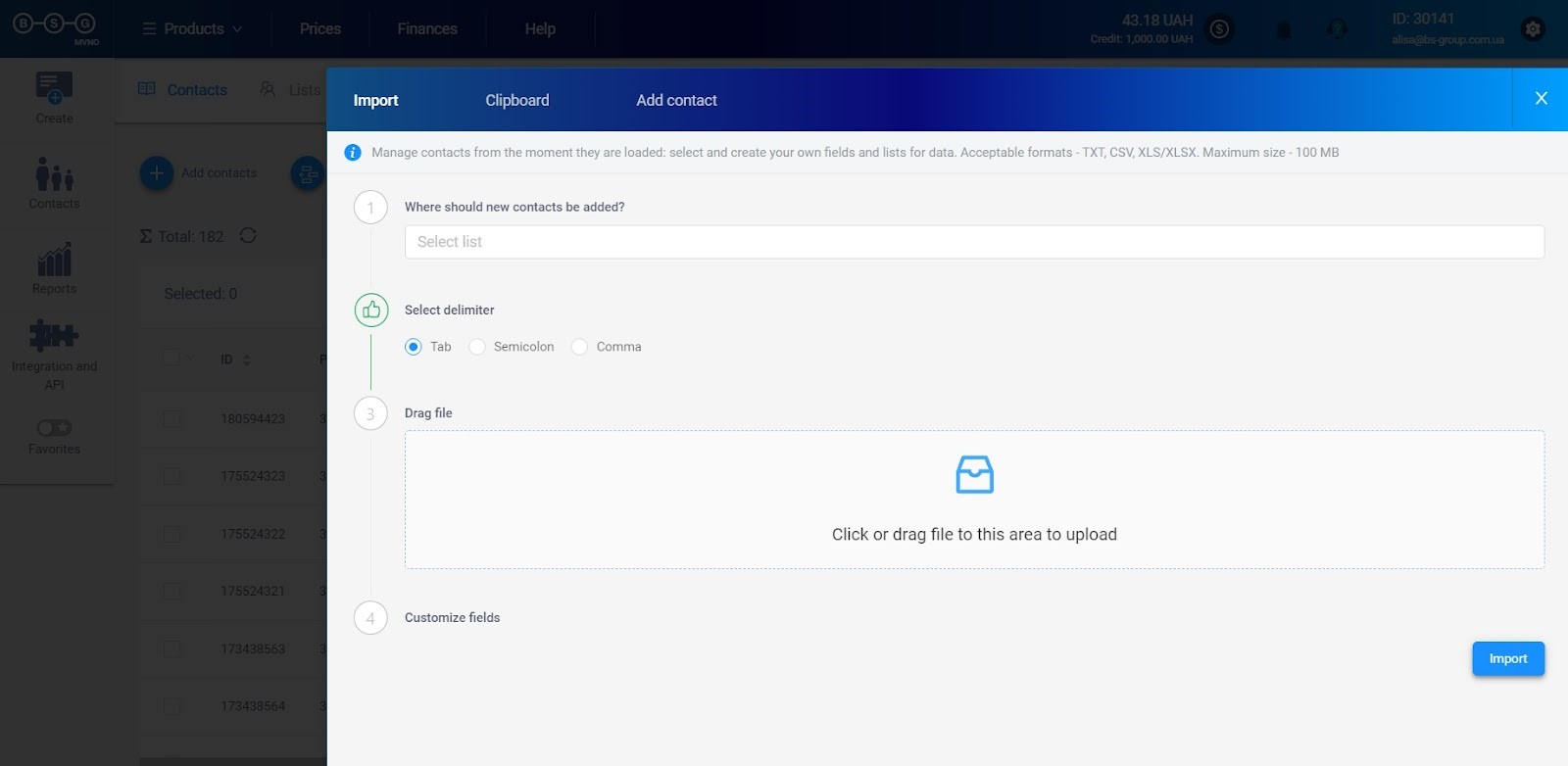 File restrictions:
Formats: TXT, CSV, XLS/XLSX.
File size: 100 MB
Number of fields (columns): 31
In addition to the phone number, the file can contain any customer data that you need for convenient segmentation of the recipients and personalized messages, such as:
customer name,

registration date,

geo data or address: country, city, language,

personal promo codes
and many more.
Click "Add Contacts", perform just a few steps on the Import tab ― and the new recipients will be added:
1. Specify where the contacts should be added.
Select a list, or several lists, where the contacts will be added. Or create a new one by clicking "Add List" and creating it in a pop-up window.
2. Select a delimiter.
In order that the system displays the data correctly, select the delimiter that is used in the file: tab, semicolon, or comma.
3. Add a file.
Just drag and drop the file to the upload area or click on it to open the standard file upload window.
If there are several pages in the file, the system will take the first one, and display the first 10 lines for further field customization.
4. Customize the fields.
This is the final step in preparing for file upload.
Select the correspondence of the file columns with the Contact Book fields. If the required field does not exist, then create it directly from the modal window.
When creating a field, remember about the field formats:
The format of the field will later determine its use for building the segments. You can use any custom field from the Contact Book for personalization ― substitution in the message texts.
The Phone field is required. The system will help you convert your numbers to the international format: it will clean out the ( ), - chars, and add +.
5. Import.
Click the "Import" button, and the system will load all valid data into the selected lists. The import time depends on the file size.